PHI - Papa's House International presents:
"Walking in Royalty
"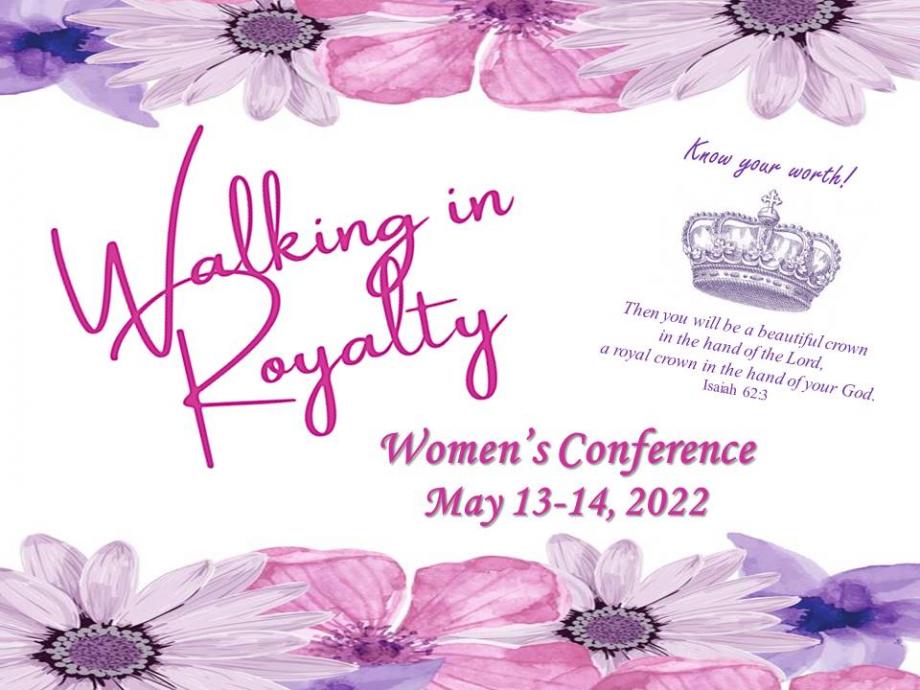 2022 Women's Conference
May 13-14, 2022







LADIES! Do you know your WORTH?

The world tells us to prove our worth by what we accomplish. The Bible tells us to accept our worth in the One who loves us. You don't have to justify your worth by how much you are doing for others or how many activities you are engaged in.

A woman first needs to find her identity in who she is in Christ - God's beloved child. It is only as she does this that she can be fulfilled and carry out His plans for her. When a woman submits to God, Christ will work in her and through her by His Spirit. In this way, she will be enabled to fulfill all the purposes He has for her-but in His strength, not her own.

Walk with us as we discover our WORTH in Him.

Jesus said to us that:

* Society doesn't determine your worth (John 4:1-42)
* You were created for a purpose (Mark 16:9)
* Grace was meant for you, too (John 8:10-11)
* Reach for Him with relentless abandon (Mark 5:21-43)
* Your place is at the feet of our Savior (Luke 10:38-42)


Isaiah 43:3 says "Since you are precious and honored in my sight, and because I love you, I will give people in exchange for you, nations in exchange for your life."

Isaiah 62:3 says "And you will be the crowning glory of the Eternal's power, a royal crown cradled in His palm and held aloft by your God for all to see.


Speakers from across the nation will join us to bring Our Father's Word to encourage, uplift and reinvigorate our life and faith. Let them help you realize your worth. Let them teach you how to walk in your God given position of Royalty.

Come and be treated like royalty at the Queen's Tea.

Come be pampered, but most of all, come and spend time with your Father and let Him just love on you.

We're going to worship together, pray together, learn together and most importantly, encounter God together.

AND, when you leave the conference, our prayer is that you Know Your Worth and that you walk in your royal position as a Daughter of the Most High King!



Saturday Afternoon we will attend a "Queen's Tea" party and celebrate who we are!